Front Tail Deck Pad Set | One Size | 6 Piece

Made with RTM-22™
High performance brushed 3 piece front traction pad + 3 piece tail pad
£109.00
Buy now, pay later with

Pay in 4 interest free instalments with

When you order a SurfDek product we manufacture it specifically for you the same day. We love creating these brand new products for our customers but please contact us if you have any questions regarding fitting or sizing. We are conscious manufacturers and we can all benefit from only producing what is required. Let's aim together to try and reduce the occurrence of having to exchange products for this reason.
Buy With Confidence
FREE Tracked Shipping (UK + IRE) on orders over £100
Worldwide Shipping Options Available
Fast Dispatch
FREE Stickers With Every SurfDek Order
100% Safe & Secure
You may also like…
● Buy Now

£

84.00

[CHOICE OF COLOURS]
Description
3 Piece Front Deck Pad + 3 Piece Tail Pad Set
Classic shape for surfboards, kite boards, wake surf boards or skimboards. Progressive performance.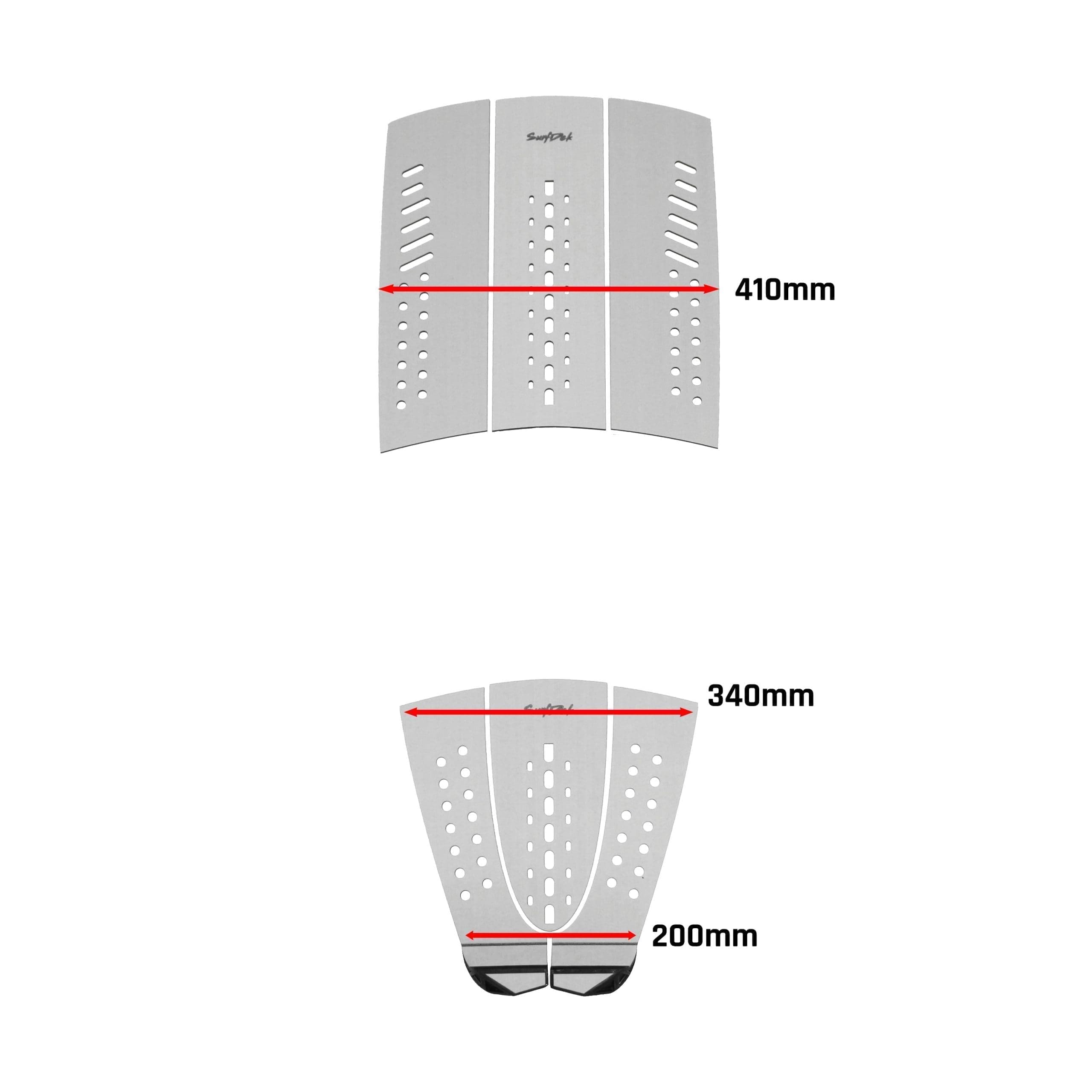 RTM-22™ is a new brushed foam formula, meaning no diamonds or pyramids. This creates an even better board feel whilst still maximising grip.
3M® high-grade adhesive.
Manufactured in the UK using premium marine-grade foam, polymers and adhesives.
Lightweight
Foot strap insert holes through centre
Tail pad – 5mm thick x 340mm long x 330mm wide
Front section – 5mm x 430mm long x 400mm wide
How To Apply SurfDek
In order to get a perfect adhesion to your board using our traction pads, we recommend you follow these steps listed below.
1. Warm Environment
We love being outside as much as anyone, but please Install SurfDek traction pads in a warm environment (like a cosy living room) above 18 degrees cesius. for an even better bond, use a hairdryer to gently warm up the back of the traction pad before you remove the backing film and apply.
2. Clean Flat Surface
Clean the board area with an alcohol wipe or similar. Make sure there is no wax residue, grease or dirt present before applying a surfdek traction pad. Be careful not to attempt to stick traction pads too far around board rails.
3. Peel and Stick
Peel back half of the adhesive backing of your traction pad, this will make it easier to align. Place the pad glue side down in the desired position, pressing firmy. peel the remaining backing from the traction pad and press into place. Once down, rub overt the traction pad firmly across the entire pad, making sure to rub your hand along the edges to make sure it is firmly in place.
Extra: Hex Pad Packs
Layout your Hex Pads across the area you wish to cover in order to make sure it will be a nice fit. You will find the y-tool included with the pack fits neatly into the edge of a Hex Pad, in order to align the next hexagon. So that the tool does not get stuck between traction pads, You can then pull the y-tool away from the pads before moving on to the next one. Repeat this process with each Hex Pad until you have completed your Hex Pad traction pad.
Get creative!
Additional information
| | |
| --- | --- |
| Choose A Colour | Canary Yellow, Candy Red, Coral Pink, Gunmetal Grey, Heather Grey, Ocean Blue, Sand, Teak, Tiger Orange, Toxic Green |
| Material | MG-Matrix-40™, RTM-22™ |
| Traction | |
| Surfboard Type | |
| Watersport | Kitesurfing, Skimboarding, Surf Foiling, Surfing, Wake Skate, Wing Foiling |
| Collection | |
| Pieces | |
| Manufacture | Made In The UK |